Reservation
Up to 4 days prior to your arrival date : Please send us the reservation request form below to make a reservation.
For all the reservations within 3 days prior to your arrival date, please call us: (country code : 81)

075-371-8802

(8 h - 20 h)
Child policy :
The ancient Japanese style construction of our establishment does not offer the same level of soundproofing as contemporary buildings. Therefore, we are unable to accept children under 11.
Reservation of our restaurant Bistro :
Reservation required by the day before for dinner

Reservation steps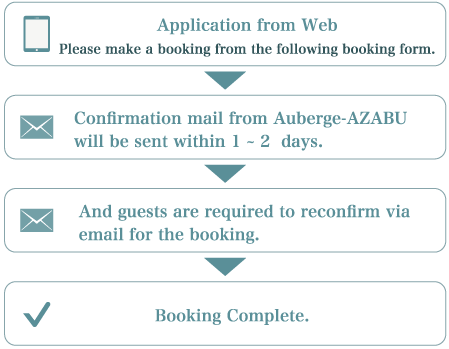 Check in & Check out
Check In

15:00 - 20:00

Check Out

8:00 - 11:00

Late arrival : If your arriving time is later than 8pm, please make sure to inform us in advance.
As required by the Japanese Ministry of Health, Labor and Welfare, we will make a copy of the passports of all guests who are non-residents in Japan.
Breakfast & Dinner
Breakfast

8:00 - 10:00

Dinner

Reservation required
Reception
Opening hour

9:00~11:00/15:00~20:00
Baggage
You can leave your baggage at the reception during opening hours.
Payment
We accept cash or credit card payment :
Credit cards : 【VISA】【MASTER】【AMERICAN EXPRESS】 【JCB】【DINERS】
Cancellation Policy
Until 8 days prior to your arrival : free of charge
(please advise us of any change of your reservation as soon as possible)
From 7 days prior to your arrival : 100% of 1 room charge
Official site User Discount
We offer 5% discount to all our guests who reserve via this website.
Availability
Please check the availability before sending your booking request.
※ X = the room is fully booked
Season Calender

Season Category

■

lowest

■

low

□

season 1

■

season 2

■

season 3

■

season 4

Room rates

Our room rates vary according to the season. Please refer to the Season Calendar
All room rates are per person, based on 2 persons in the same room (VAT and continental breakfast included)
Single occupancy rate is only possible in the room Kikyo
The accomodation tax of Kyoto is NOT included. It will be charged per person (200 JPY - 500 JPY according to the room price)
High Season & Special dates : Cherryblossom season, New Year, Gion festival, Japanese national holidays etc.
The room rate may change. It will be confirmed in our confirmation mail
Season Category


■

lowest

■

low

□

season 1

■

season 2

■

season 3

■

season 4
Asagao
Large Twin Room


2 or 3 persons (no single use)

Rates per person in twin-use

(incl. VAT)

N/A

¥ 13000

¥ 14750

¥ 17000

¥ 18500

¥ 20250

Supplement for the 3rd person

(incl. VAT)

N/A

¥ 6000

¥ 6000

¥ 6000

¥ 6000

¥ 6000
Sakura
Deluxe Queen Room


2 persons (no single use)

Rates per person in twin-use

(incl. VAT)

N/A

¥ 14500

¥ 16500

¥ 19250

¥ 20900

¥ 22550
Ajisai

(with Garden view)


Standard Twin room


2 persons (no single use)

Rates per person in twin-use

(incl. VAT)

N/A

¥ 12000

¥ 14000

¥ 16000

¥ 17500

¥ 19500
Suisen

(with Private Garden)


Deluxe Twin Room


2 persons (no single use)

Rates per person in twin-use

(incl. VAT, breakfast)

N/A

¥ 17500

¥ 19500

¥ 21500

¥ 23000

¥ 24500
Kikyou
Double or Single room


max 1 or 2 persons

Rates for single-use

(incl. VAT, breakfast)

N/A

¥ 16000

¥ 18000

¥ 20000

¥ 24000

¥ 29000

Rates per person in double-use

(incl. VAT, breakfast)

N/A

¥ 9750

¥ 11750

¥ 13850

¥ 15500

¥ 17650
〈 RESERVATION REQUEST FORM 〉